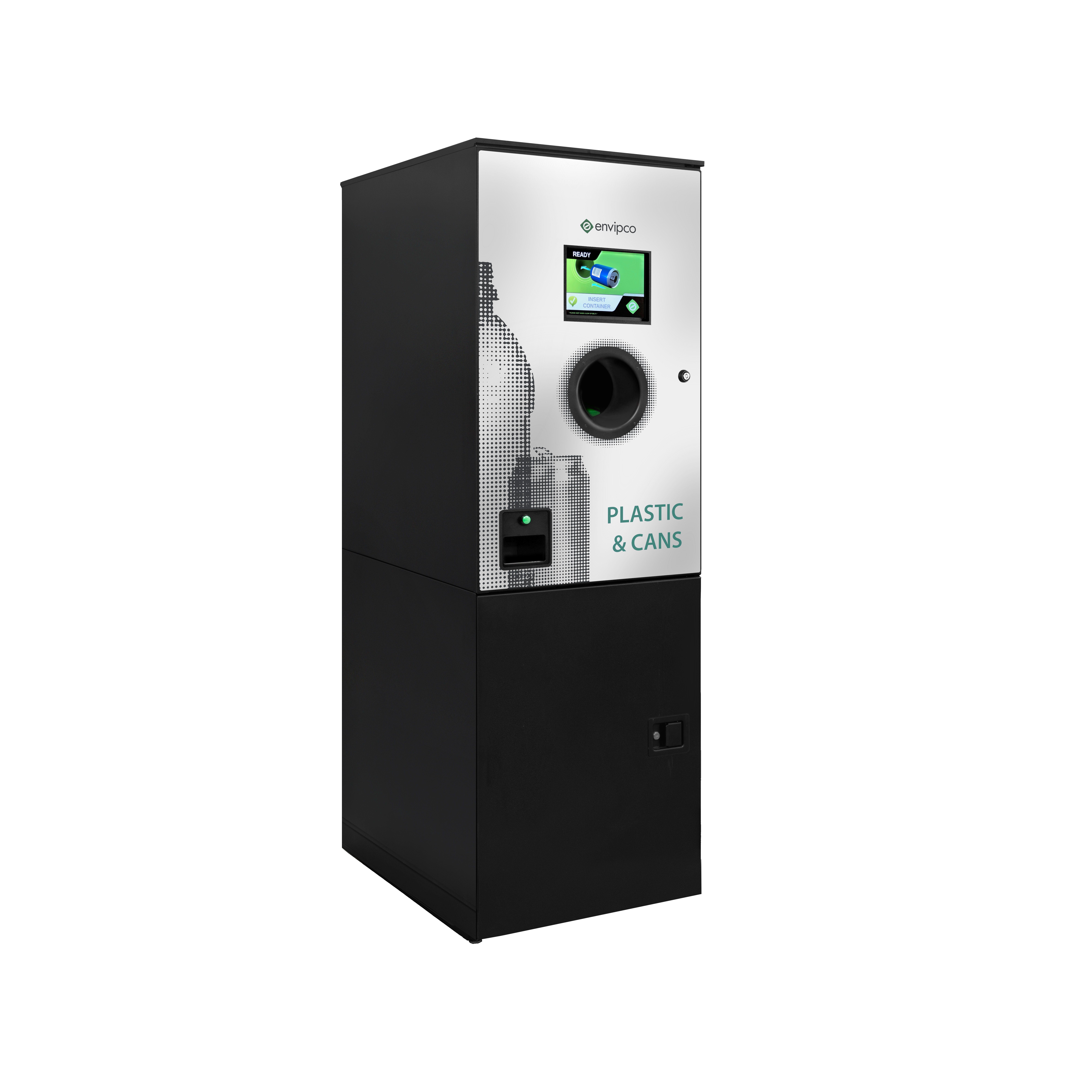 1
2
3
4
The easy-to-read screen shows the status of the machine, individual recycling transactions, refund amounts due and important messaging for your customers.
The container is placed inside the RVM and is then scanned and recycled accordingly. If shape requirements are not met, the container is returned to the customer and will not be recycled.
By default, the refund amount due to the customer is printed to a paper voucher, which includes a security barcode, that can be scanned by the retailer at the till for payment preventing duplicate redemption. Envipco provides other alternatives, including applying the refund value to a customer loyalty card – please ask for details on this and other options.
Bins store the compacted material with abundant storage capacities and easy accessibility. Types of bins includes those with wheels for fast and safe transport of heavier material.
Our combinations
Envipco provides different variations of its products for the best fit for our customers. Our RVMs are flexible and always comply with your local DRS specifications.
This flexibility proves to be useful and can cater to your needs to offer the most suitable solution.
If you want to know how we can optimize for your needs, please get in contact with us.
Flex

Flex Commingle

Flex Tri Soft-drop

Flex Tri Wheelie bin

Flex PET & Can

Flex Tri PET, Can & Glass
enVision Portal
For online access to your RVM activity, along with both summary and detailed reporting, enVision Portal is the solution. This web portal allows access to all levels of detail processing of containers through your RVMs, sends alerts when attention or service is needed and provides comprehensive reporting on all RVM activities. On a chain or regional level, enVision Portal combines information to report just what you need.
For US: enVision Onsite is Envipco's customised, local view of your RVMs. This product lets you know what's happening in your recycling centre at all times by monitoring the RVMs and notifying location personnel when attention is needed. This monitoring capability is enhanced by allowing you to order supplies, request new product be accepted by the machines, validate the receipts for your location, request empty drinks container pickups and send messages/enquiries directly to Envipco support personnel.

Features
Envipco's RVM model for return centres with minimal available space and low volume drinks package recycling such as convenience stores, pharmacies, petrol stations, and schools.
Simple, small footprint collection unit
Industry leading container acceptance speed
Dual compaction technology
Available Glass option
Plug and play' – works on standard electric
Easy cleaning and service
Custom machine graphics and screen interface
Comprehensive digital marketing options
Optional shape system
Clearinghouse
The clearinghouse system is an essential part of processing drinks containers in deposit markets. In the US deposit states, Envipco operates the clearing and accounting systems, monitoring eligible deposit refunds at the point of redemption and applicable handling fees.
For other markets, Envipco provides redemption information to DRS System Administrators or other appropriate entities.
Logistics & Transport
Envipco offers a one-stop drinks container recovery solution, including overseeing the logistics and transportation services from the point of collection to the point of processing. Envipco provides full reverse logistics services with a variety of collection containers, bag systems, and other options targeted at specific customer groups and optimised for the various commodities.
We can customise
Envipco RVMs can also be custom-wrapped to fit in seamlessly in your store environment and comply with your corporate identity. Custom looks provide another point of communication with your customer and can reflect on your sustainability messaging.